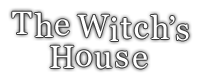 The Witch's House
is a freeware puzzle-oriented horror game by
Fummy
made in RPG Maker VX.
The young Viola visits a mysterious house in the woods.
She soon discovers its dangerous nature and must find a way out.
But the house is ever-changing, and death could be lurking anywhere...
(Content Severity: Discretion Advised)
Click here for content warnings.
---
Download The Witch's House 1.08 | (Mirror)
---
Troubleshooting
---
Screenshots
---
Walkthrough
The official site includes a hint-based walkthrough if you get stuck, which I've translated below.
Click or highlight the black boxes below your problem to see a hint or answer.
There are also some details about the endings and other special events.
Walkthrough
---
Music
All the music in the game can be found in the Audio/BGM subfolder.
Below is a list of songs and their sources.
Note that there are some spoilers, mostly with regard to where songs are used.
Do not reupload these songs elsewhere without permission from their respective creators.
Song List
---
COME TO MY ROOM